Meet The Freedom Real Estate Group Team
Every step in our process was carefully designed by our company leaders.   The Freedom Real Estate Group business model and value system has made us the #1 Home Buying Company across Ohio.  Allow us to introduce you to the people whom you may meet when you work with our team!
Dani Lynn Robison, Co-Founder, Director of Acquisitions & Private Money Manager

Dani has been a Licensed Realtor, Distressed Property Specialist and Note Consultant since 2009.  She has participated in countless real estate transactions and evaluated thousands of houses. Dani's joy comes from creating win-win situations that help sellers, buyers, and the community.
Dani grew up in Phoenix, AZ and earned an Music Performance degree from Southeastern University. She's lived in Florida, Texas and Ohio and traveled on cruise ships for 10+ years where she met her husband, Flip.   She and her husband are the proud furry parents to one golden retriever, Tucker and a feisty bulldog named Spartacus.   You can contact Dani at (513) 294-8008 or via email at info@freedomrealestategroup.com
Flip Robison, Co-Founder and Director of Sales & Marketing

Flip started in Real Estate in 2008 as a home buying specialist, analyzing thousands upon thousands of properties. Everyday he looks for ways to improve the company's systems to make the selling experience smoother and less stressful for home sellers. Bringing ethics, standards and professionalism to an industry that has a lot of unscrupulous investors is a driving force for him.
Flip was born in Ohio and raised in Michigan (he holds his hand up to point where he lived, ha). After he graduated from high school in 'The Thumb' of Michigan, he attended Michigan State University studying computer science and music performance. He played trumpet professionally all across the country, at Walt Disney World in Orlando and on Carnival Cruise Lines as a professional musician and Musical Director on some of the largest cruise ships in the world.  He loves to attend sporting events, ride roller coasters and you will occasionally find him out on the golf course searching for his ball!  You can contact Flip at (513) 294-8008 or via email at info@freedomrealestategroup.com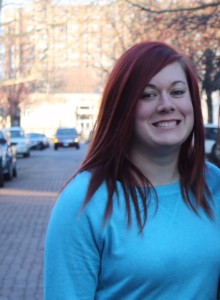 Neeka Wilder, Project Manager
Neeka oversees all of our turnkey rehab projects.  She is a licensed real estate agent and has owned her own renovation company for 4 years.  Neeka enjoys working with our team because it allows her to oversee more projects than she could ever do on her own and grow with a team that loves working with her!
Neeka grew up with 5 sisters and one brother right here in Montgomery County, Ohio and studied criminal justice at Sinclair.  She lives in Franklin, Ohio (minutes from all of our turnkey properties) and she is a wonderful dog Mom to 6 Pit Bulls: Allen & Kara (the parents) and Tutankhamen, Tucker, Tyke and Prim (the puppies)!  When she's not managing our rehabs or playing with her pups, you'll likely find her playing volleyball!  You can contact Neeka at (513) 294-8008 or via email at info@freedomrealestategroup.com
Tina Howard, Operations Consultant

Tina is responsible for many of our core operational components. With her years of real estate experience, she can work nearly facet of a real estate deal and brings incredible value to every role she steps into.  Tina enjoys working with Freedom Real Estate Group because of her passion for helping people achieve their financial goals.
Tina grew up in Newport News, Virginia.  She married an active service member and has made several military moves since then, 5 states and counting!  Georgia, Texas, Alaska, Washington and Alabama.  In her free time, you can find her and hubby outside hiking in the woods or along the water banks with their handsome and fun loving Dalmatian Roscoe! You can contact Tina at (513) 294-8008 or via email at info@freedomrealestategroup.com
Peggy Beene, Head of Brokerage Recruitment & Services

Peggy loves the interaction of getting to know the agents we work with and how we can help them.  She's had a life long passion for real estate and she loves working with such a reputable company who have a win-win mentality in every aspect of their business.
Peggy was born and raised in Chicago, IL and graduated from DeVry Institute of Technology with a CIS BS degree.  When she's not working, you can find her and her husband Ron outdoors hiking or on search and rescue missions with their two bloodhounds Dakota and Bailey.   You can contact Peggy at (928) 792-1719 or via email at peggy@freedomrealestategroup.com