If you have ever called our main office number, you've probably heard the sweet southern voice of the one and only Betty on the end of the line. Betty is a staple in our office and has a true attitude of "customer first." We sat down with her to find out a bit more about her and share it with all our fans.
Where are you originally from?
Chatham, Virginia
When did you move to Ohio?
August 2011
What brought you here?
My husband's job.
Why do you like working at Freedom Real Estate Group?
Oh my gosh. Where do I start? I absolutely love my job. I love what I do. I love the people that I work with. I love it because I have always been a people person. I used to be a Customer Service Sales Manager for 26 years and I just love dealing with people. I don't look at everyone here as a group of workers but a family – a team – we pull together. Overall I just love my job and love what I do.
What got you into this job?
I worked at PNC Bank when I first moved here. Another co-worker left PNC to work for a turnkey company. Later on I asked if they needed help. Eventually, I went in for an interview. I was hired and did the same exact position there. Since then, I was introduced to Dani and Flip and loved them as people so I moved to this company.
Any favorite hobbies or things you do in your free time?
I enjoy crocheting, watching TV and cuddling with babies.
Who are your babies?
We have five bichons – Cody, Angel, Harley, PoohBear and Macie. Two yorkies – Lacie and Gracie. And one havanese – Precious. So total, 8 babies.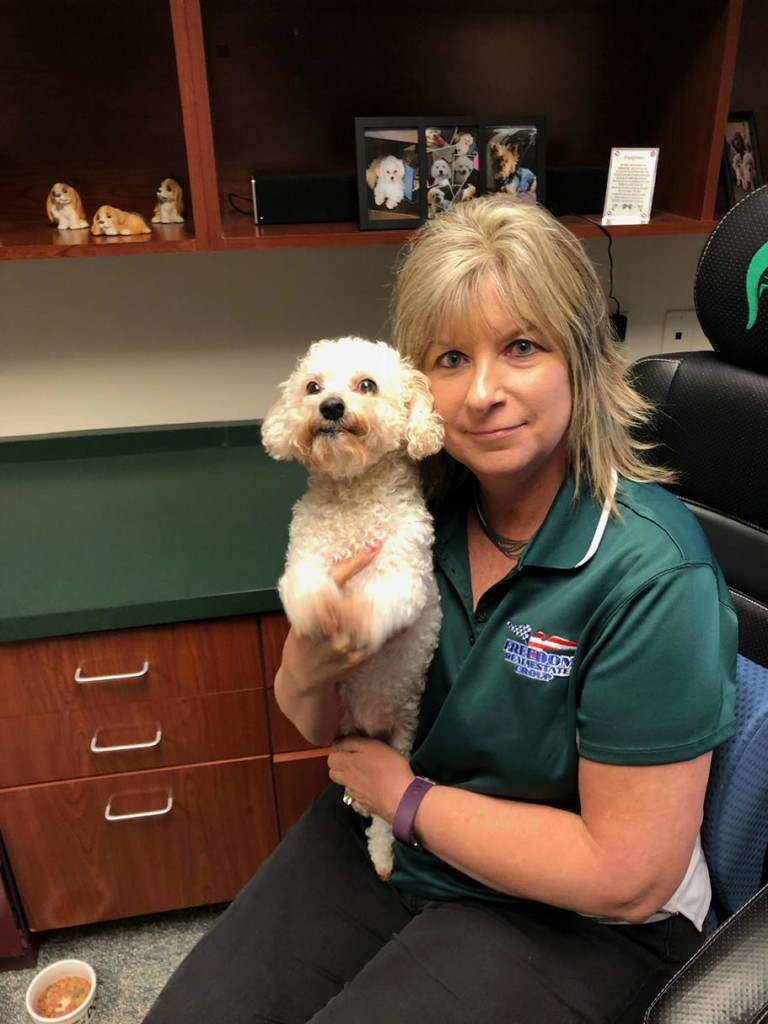 Is there something our fans may not know about you?
(super long pause) They may not know I used to deer hunt and coon hunt. Funny story. My ex-husband was hunting across the road from me and it was just getting dark and he all of a sudden heard 'BAM BAM BAM BAM BAM BAM' (yes she said bam six times) and he came running across the field and said 'Are you okay?' and here I come out draggin' a deer.
Everyone in the office knows you have a Snoopy obsession. How long have you been in love with Snoopy?
I wouldn't say very long. Maybe around 10 years. Not sure why. I just saw him and thought he was the cutest. I got one stuffed animal, thought it was cute and just started collecting from there.
Any favorite quotes or words you live by?
'Everything happens for a reason and never question why.' I really, truly believe that everything happens for a reason.