If you visit our dedicated turnkey website – www.TurnkeyOhio.com – you will notice that some properties are marked "Cash Only" and some are marked "Financing or Cash." So, what's the difference? Is there an advantage to buying with cash? Let's break it down.
It all has to do with the appraisal.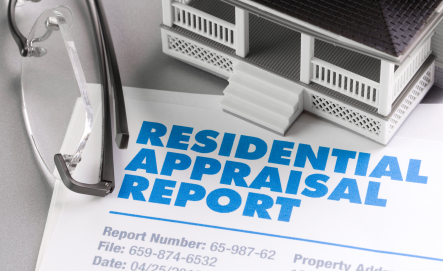 With a finance buyer, all properties must go through an appraisal. In order for the appraisal to pass successfully, the property must be completely rehabbed. For us, that means we must do our intial inspection from a third-party inspector, do the rehab, have another third-party inspection, do any needed additional repairs, do our own in-house punch list inspection, do any final repairs, and then a final walk-thru before we deem it ready for appraisal. Whew! That's a lot of inspections. What can we say? We're picky.
If an appraiser were to come in before that final walk-thru is complete, it may not appraise properly. We always sell our properties at market value or below (often below). We also want to ensure that a buyer is going to get their financing approved and the appraisal comes out fine. In order for that to happen, the rehab must be complete.
To not tie up all our properties for 2-3 months while the rehab is taking place, we offer them to cash buyers. Cash buyers do not need an appraisal. They may opt to do one if they wish, but it's not required for funding.
Once the property is about 30 days away from rehab completion, we open it up to finance buyers and the "Cash Only" changes over to "Financing or Cash."
With this process, we ensure we're not tying up properties for months and can ensure that the appraisal process will go smoothly.
Are there pros to buying cash?
There are at least a few big ones. One is what we discussed before. You're able to buy a property before rehab is complete. If the numbers look great and the property is going to be amazing when complete, why wait? Plus, with Freedom Real Estate Group's Rent Promise and Warranties, you're covered. If for any reason a property isn't rented, either due to rehab being done or it just not being tenanted yet, we begin paying the promised rent. You, the buyer, start cash flowing 30 days after close regardless. We also give a full one-year warranty on all rehab related items, three years on HVAC and water heater, and 10 years on the roof with all properties. You get that warranty in writing at closing. The second big point is the potential for a cash-out refinance later on. Immediately after purchasing, you can do a cash out refinance loan and get back up to 75% of the money you've invested. You can use the cash to pocket or purchase another property.
Are there pros to buying with financing?
There are a few here as well. The biggest is you're using other people's money to make money. You're able to leverage a smaller amount of your own cash to increase spending power. Another pro, at least some will argue, is you're safe guarded with the appraisal. Granted, you could get an appraisal without taking out a loan. However, if you have $100k on hand, you could potentially buy five $100k properties with a 20% down payment. There is definitely some power there. Of course don't forget your mortgage payment. That will eat away at your cash flow. Plus, you may have to wait on a property to be ready for an appraisal which means you could lose out. Just this past week we had 4-5 interested finance buyers wanting a property. Before they had the chance, because it wasn't 30 days away from rehab completion, a cash buyer swooped in and bought the property.
Whether you purchase with cash or financing, the great value of turnkey real estate investing is creating cash flow. That's the key to true financial freedom.
Have questions on using cash or financing?
Want to learn more about Freedom Real Estate Group?
Contact us via the form below!